Golf Exercises For Seniors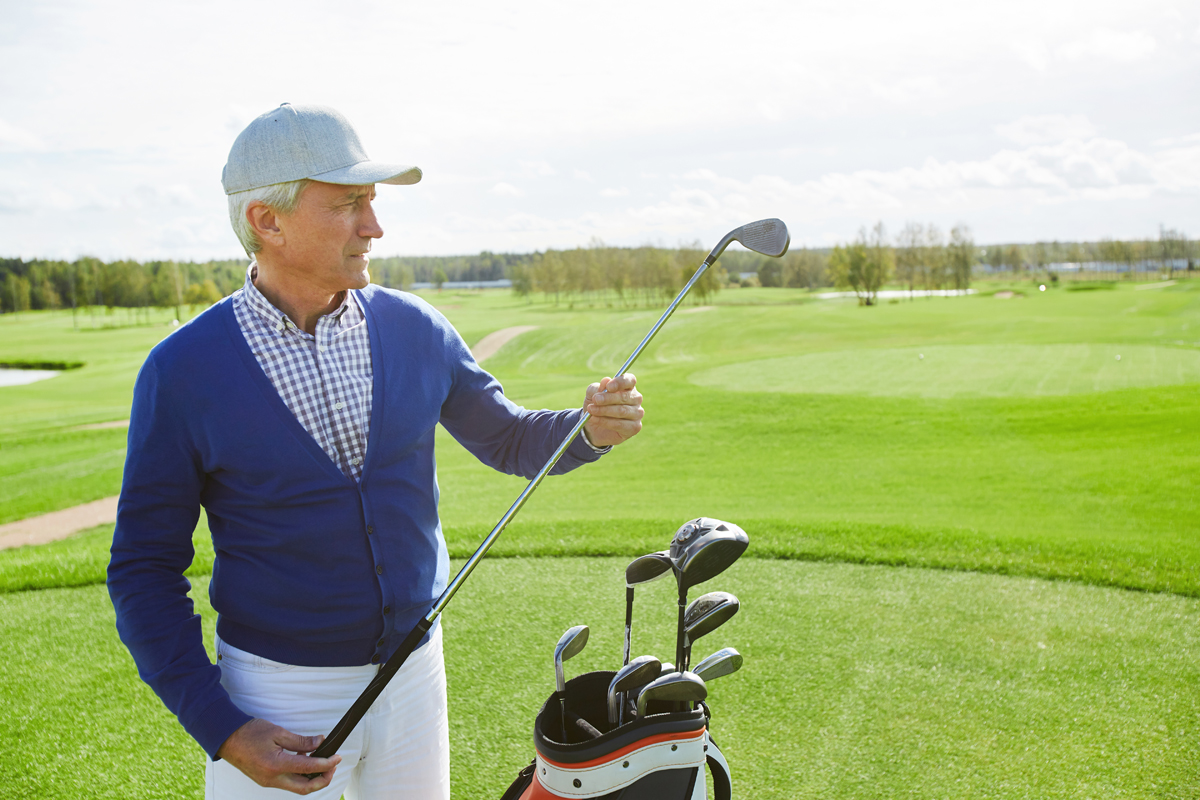 Strength and mobility are two crucial assets for seniors hitting the links. Try these golf exercises prior to your next round.
Start By Stretching
The game of golf requires a lot of walking, which can put a strain on your lower body. Make sure your legs are loose before hitting the links. You will also want to loosen up your upper body so you can maximize each and every swing of the club. Try these stretches for both lower and upper body purposes:
Ankle Stretch
Try some seated ankle rotations, either clockwise or counterclockwise.
Turn your ankles around slowly in circles to the left, then right.
Lead the rotations with your big toe.
Keep the movements small.
Only use your foot and ankle during this stretch, not your whole leg.
Shoulder Stretch
Begin by standing with your feet hip-width apart.
Let your arms hang down at the sides of your body.
Breathe in while lifting your shoulders up to your ears.
Move your shoulders back, while squeezing your shoulder blades together.
Exhale, then drop your shoulders back.
Move your elbows forward now.
Repeat this stretch 10 times.
Back Exercises
Back pain can be very troublesome for seniors out on the course. That's why it's essential to do some preventative exercises before a long day of golf. Try this back exercise:
Lie flat on your back to begin this stretch.
Bend your knees with both your feet kept flat on the ground.
Keep your arms flat on the ground while performing this stretch.
Keep your feet shoulder-width apart.
Raise your hips while keeping your hands and shoulders flat on the ground simultaneously.
Your hips need to form a straight line all the way from your knees to your head.
Lower yourself down to the ground cautiously.
Try to perform this exercise 8-10 times.
Quad Exercises
Quad cramps are an all-too-common reality for senior golfers. Try this exercise out to prevent any potential quad pain:
Stand straight up with both feet firmly planted on the ground.
Steady yourself against a large object or door.
Bend one knee and leg, holding it tightly to your buttocks.
Hold the leg in position with your hand on that same side.
Try to hold the pose for up to 15 seconds.
Hip Stretches
Hip strength is an important element in any senior's golf game. You want your hips to be as loose as possible each time you approach the tee. Perform this stretch prior to your upcoming round:
Lie flat on your back, keeping your knees in the air and feet on the ground.
Next, drop both your knees to the left.
Hold this position for 15 seconds, if possible.
Leg Stretches
While your hips are loose, you'll still want to create as much swinging power through your legs as possible. This stretch is perfect to strengthen your legs:
Sit straight up in a chair with both feet flat on the floor.
Keep your back straight while you raise one leg slowly.
Keep the leg horizontal with the floor during this stretch.
Hold the position for 5 seconds.
Now repeat the stretch with the opposite leg.

Mobility Center In Mesa, Arizona
Mobility Center has been proudly serving the entire Phoenix, Arizona area since 1975 with the finest in mobility aids, scooters, wheel chairs, lifts and support equipment. Visit our convenient location to see the products and receive the individual attention that you deserve. Our service area includes Mesa, Apache Junction, Tempe, Chandler, Scottsdale, Phoenix, Glendale, Surprise, and Sun City.