How Much Does A Wheelchair Cost?
There are three main types of wheelchairs: transport, manual and electric. Depending on the type of wheelchair needed, costs can range all the way from $90-$9,000, with an average price of $4,455. Of course, prices will vary based on model, with transport being the least expensive and electric being the most expensive of the bunch. If you're searching for "how much does a wheelchair cost," then keep reading for a full breakdown.
Types Of Wheelchairs
The three most commonly used wheelchairs are transport wheelchairs, manual wheelchairs and electric wheelchairs. Essentially, that is also the list in order of cheapest to most expensive for those looking to purchase a wheelchair. Let's check out the typical costs for these three types.
Transport Wheelchair Cost
Transport wheelchairs are as close as one can get to the traditional style of wheelchairs. This model is generally made for someone other than the rider to push the actual chair from behind. These chairs are usually foldable and very light, ideal for transporting the chair from place to place. They are commonly used to wheel patients in and out of hospitals. Seniors that may have difficulties pushing their own weight in a manual model tend to opt for transport wheelchairs, as well.
Price range: $90-$2,000
Average cost: $955
Manual Wheelchair Cost
A manual wheelchair will require the user to operate the wheels. Most of the time these models will make the user experience very friendly. Brakes and locks are easy to reach, and typically there are also handles on the back in case a friend or family member wishes to push the wheelchair. This is the perfect chair model for someone capable of operating the chair, but also having loved ones around to help with the process. There are several different kinds of manual wheelchairs that are available, yet the price tag will never become outrageous.
Price range: $200-$3,000
Average cost: $1,400
Electric Wheelchair Cost
Electric or "power" wheelchairs are becoming more and more popular because of the ease of use. Others could refer to these models as scooters or mobility scooters, as well. These battery-powered wheelchairs are operated simply by the touch of a button. Electric wheelchairs are ideal for those with little strength left needed to operate a manual wheelchair. Electric wheelchairs are the best possible chair one can buy to utilize outdoors. They may take time getting used to, though, especially for anyone transitioning from manual to electric.
Price range: $1,500-$9,000
Average cost: $3,750
Wheelchairs For Sale
Below is a list of popular wheelchairs sold by Mobility Center in Mesa, Arizona. To view a list of their full inventory click here.
Drive Cruiser III
The Drive Cruiser III is the closest model one can find to the classic wheel chair on the market today. This carbon steel frame with silver vein finish comes complete with push-to-lock wheel locks. The wheels are lightweight and maintenance free. Custom back inserts are possible due to the newer frame style this model features. All front riggings are adjustable as well; this includes footrests and leg positions.
Features:
Carbon steel frame
Wheels are lightweight and maintenance free
Allows for custom back inserts
Removable flip back arms
Read more about the Drive Cruiser III here.
Drive Silver Sport – Full Recliner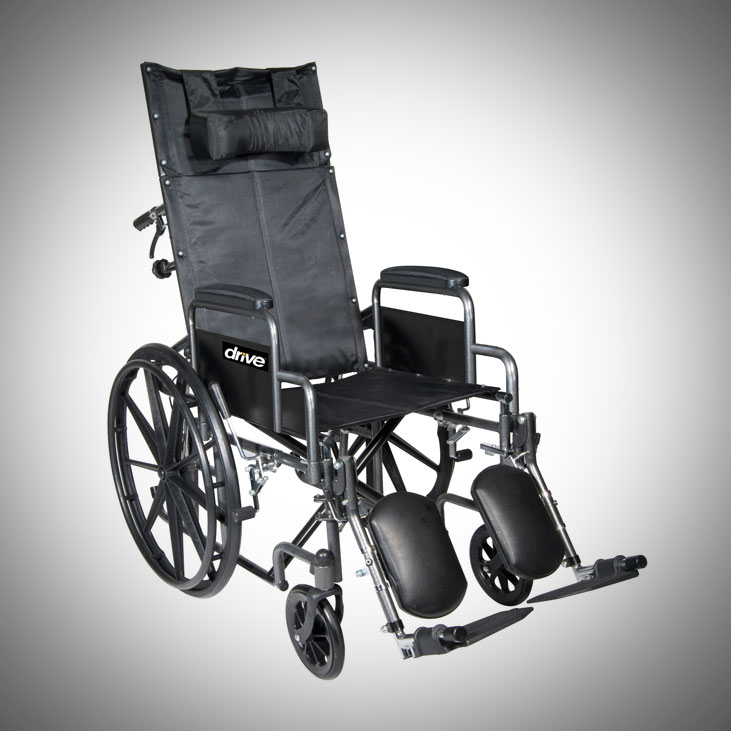 For those looking for more back support, the Drive Silver Sport – Full Recliner is the right wheel chair for you. This fully adjustable chair comes with swing-away elevating leg rests. Just like the Cruiser III, this model also features push-to-lock wheel locks. The new state-of-the-art hydraulic reclining mechanism allows for 180 degrees, perfect for anyone with back or neck pain. Wheels are set far back on this model to prevent any potential trips or falls.
Features:
Swing-away elevating leg rests
Push-to-lock wheel locks
State-of-the-art hydraulic reclining system
Padded armrests
Read more about the Drive Silver Sport here.
Pride Jazzy Select 6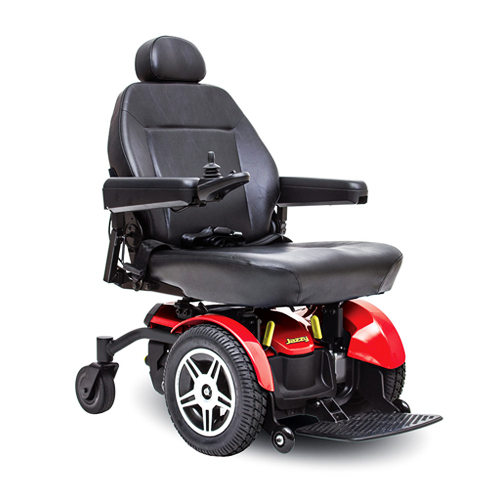 The Pride Jazzy Select 6 is as cool as its clever name. This sporty design provides a truly unique ride experience. Pride Jazzy has six wheels, giving the occupant the maximum quality in indoor and outdoor performance. This added stability helps balance on any rocky terrain or steep ramps that may be encountered. Controller guards will help protect against any wear and tear over time.
Features:
Removable, replaceable back and seat covers
Six wheels on the ground
Controller guards
Red or blue color-through shroud
Read more about the Pride Jazzy Select 6 here.
Pride Go Chair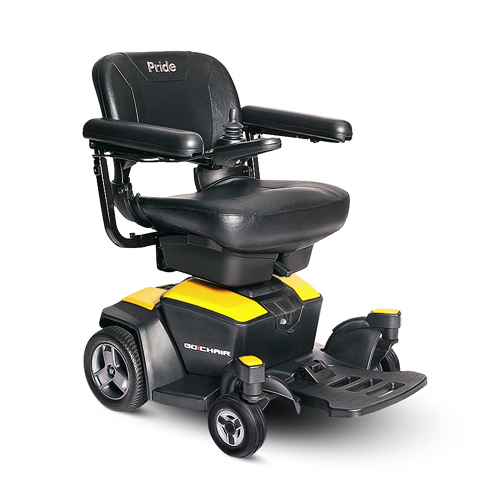 This new and improved wheel chair has been re-engineered to offer complete comfort and enhanced performance. The Go-Chair has always been one of the most popular models on the market, so its recent upgrades and new features will make it a customer favorite all over again. Two storage compartments have been added, as well as 10 different color options. A new (higher) weight capacity has been set at 300 lbs.
Features:
Speeds up to 3.7 mph
Wide height and width adjustable armrests
Two storage components
Available in 10 colors
Read more about the Pride Go Chair here.
Pride Jazzy Passport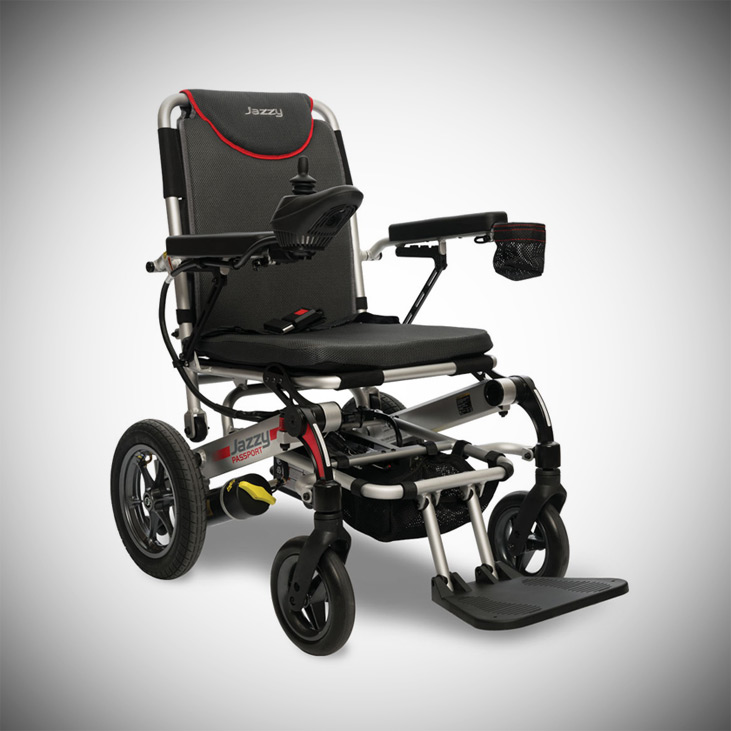 The Jazzy Passport offers one of the smoothest rides one can find today. Designed for excellence in lightweight travel, this chair can fold in a few simple steps, giving riders an effortless transportation experience. A back seat pocket is provided for extra storage. Need more storage space? Well, you've got it with the Pride Jazzy Passport! Extra mesh bags are located under the seat. A larger foot platform is also featured on this model, ideal for maximum comfort while riding.
Features
Compact and lightweight design
Easy to fold
Foam seat designed for comfort
Includes a safe travel battery
Read more about the Pride Jazzy Passport here.
Drive Lightweight Expedition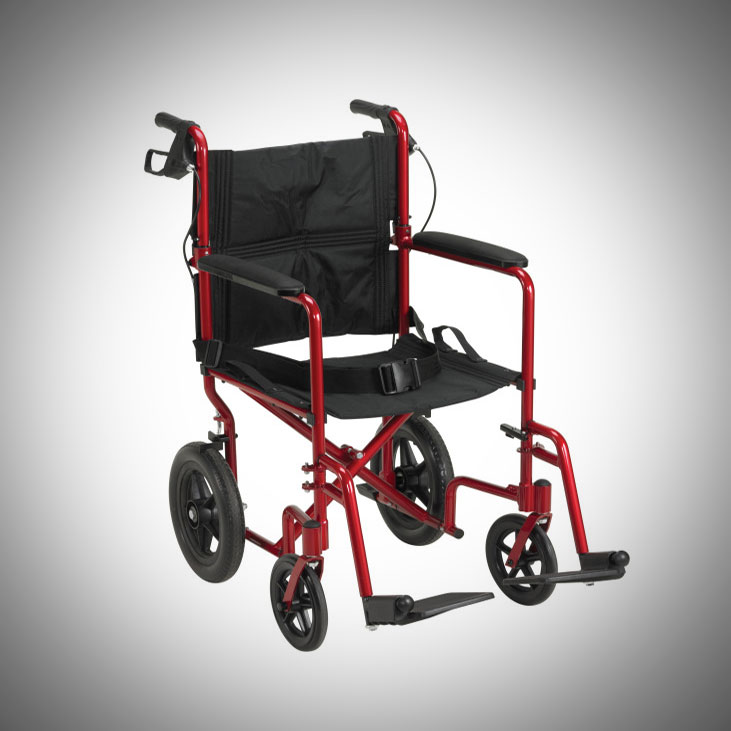 The lightweight label is no joke when it comes to the Drive Lightweight Expedition. This model weighs only 19 lbs, while also presenting the ability to fold flat for easy transportation. The Drive Lightweight Expedition comes with a seat belt and activated wheel locks.
Features:
Available in blue and red frames
Comes with seat belt
Companion activated wheel locks
Weighs only 19 lbs
Read more about the Drive Lightweight Expedition here.
Mobility Center In Mesa, Arizona
Mobility Center has been proudly serving the entire Phoenix, Arizona area since 1975 with the finest in mobility aids, scooters, wheel chairs, lifts and support equipment. Visit our convenient location to see the products and receive the individual attention that you deserve. Our service area includes Mesa, Apache Junction, Tempe, Chandler, Scottsdale, Phoenix, Glendale, Surprise, and Sun City.