How Much Does a Stair Lift Cost?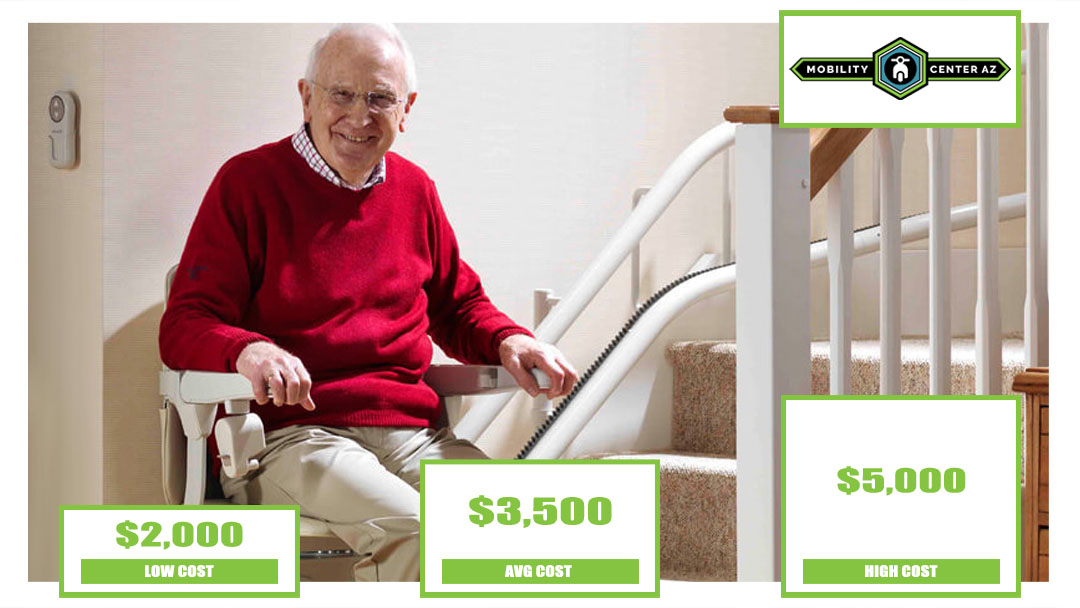 There are a lot of inquiries about, "How much does a stair lift cost?" Whereas we strive to be as transparent as we can, there is no straightforward answer to that question. Since a stair lift is a highly specialized piece of equipment, and there is not a one size fits all answer.
Straight Stair Lift Cost
When your house has a straight stairway with around 10-12 steps, your budget needs to be somewhere between $2,000 to $5,000 to buy a new stair lift. The average cost typically ranges, between about $3,000 and $4,000. These costs are going include installation of the lift. Some of the price variation is because of the multitude of models and manufacturers that are offered. Just like purchasing a vehicle, different lifts come with different base prices in addition to unique options offered. A stair lift in the $2,000 area is going to be a more base model, bought with the goal of moving a user up and down their stairs. This kind of lift might have limited choices for extras. A stair lift that begins in the $3,500 area is going to be a high end model and might have standard features like a slimmed down profile and higher weight capability. It would also have added personalized options, like  power-folding rails and seat material and color alternatives that are going to match the décor of your home. Whereas this cost might seem high at first, it is important to think about the costs for alternatives. You might move out of your 2-story house in favor of a traditional house, but that will come with realtor's fees, closing costs, and the cost to move, let alone the emotional strain of moving out of your home and neighborhood. Say you were to move into a retirement facility, you would pay $3,500 each month, on average – paying that, a lift would have paid for itself after the first month! Nursing home prices are higher, averaging $7,500 each month for a private room. In contrast, the cost is insignificant and comes with an added advantage of staying comfortable and keeping your independence in the house you love!
Curved Stair Lift Cost
Many homes come with complex stairways that have curves or landings, whereas a straight rail stair lift just won't fit. If this is your home, fret not – there are still have options! There are models that are designed to be customized to fit your house's unique staircase, so they can comply with nearly any stairway. These types are known as "custom curved stair lifts". As a result of the customized nature of these types of lifts, they usually cost more than the conventional straight rail stair lifts. Prices usually start at about $10,000 and can go up subject to on how complex the staircase is, like entire length and the number of landings, and any added features chosen to meet your requirements. Despite the high cost, take note that a custom stair lift is going to still pay for its cost in just a couple of months in compared to the cost of an assisted living facility.  For individuals that use a stair lift for only 5 years, the average cost in going to be under $200 each month – a normal fee for the ability to live in complete mobility in the home you love!
Mobility Center In Mesa, Arizona
Mobility Center has been proudly serving the entire Phoenix, Arizona area since 1975 with the finest in stairway lifts, mobility aids, scooters, wheel chairs, lifts and support equipment. Visit our convenient location to see the products and receive the individual attention that you deserve. Our service area includes Mesa, Apache Junction, Tempe, Chandler, Scottsdale, Phoenix, Glendale, Surprise, and Sun City.